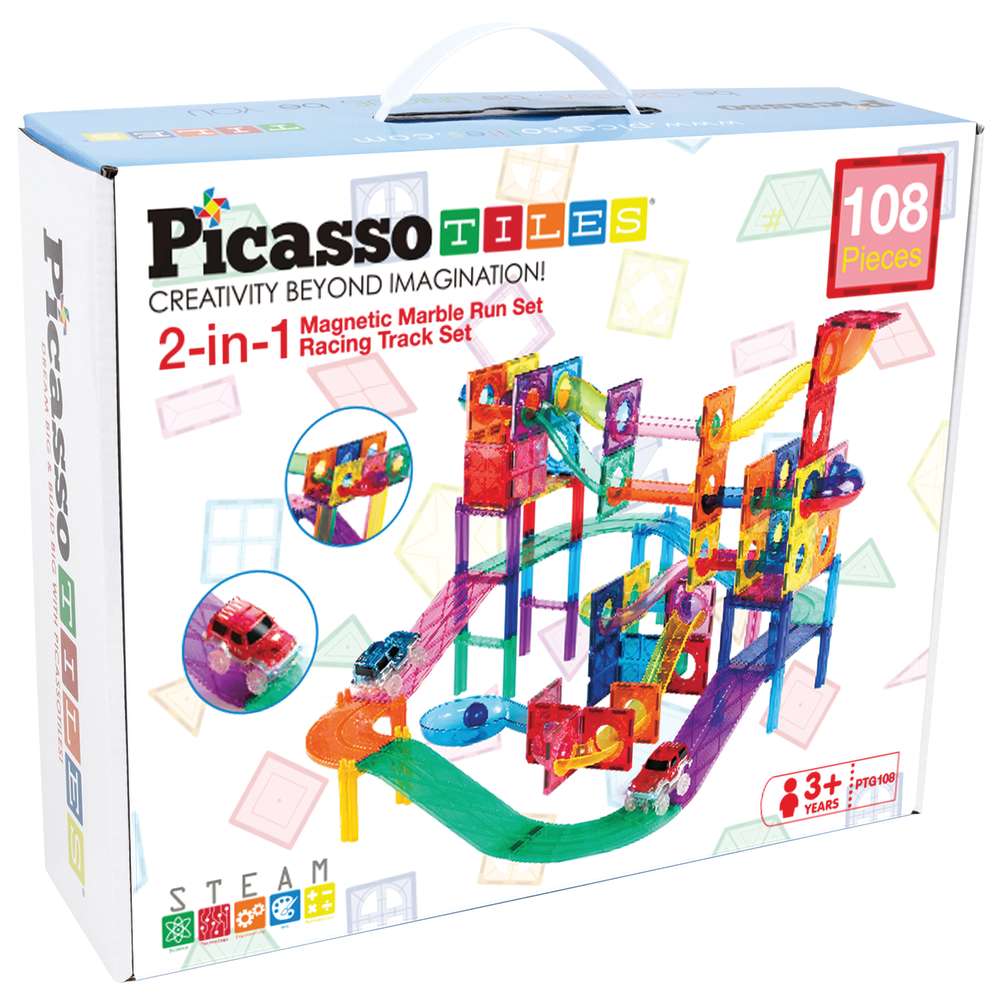 ---
Product Media
PicassoTiles® Magnetic 2-in-1 Marble Run / Race Car Track Combo
Product Number: PCTPTG108
PicassoTiles 108pc 2-in-1 Marble Run Car Race Track Combo Magnetic Tiles PicassoToys Magnet Building Block Educational Constr...
PicassoTiles 108pc 2-in-1 Marble Run Car Race Track Combo Magnetic Tiles PicassoToys Magnet Building Block Educational Construction Toy Playset STEM STEAM Learning Kit Child Brain Development
PicassoTiles PicassoToys continues to be the market leader be the first to introduce the combo 2-in-1 set value pack to get double the fun from the popular marble run and race track series after being the first to introduce each of the model to the market. Made by parents - we develop all of our play sets with meticulous and superior attention to detail. We know how to capture a child's imagination and how to keep them focused while providing high entertaining and educational value.
Scalable and expandable in both the marble run and race track to build and upscale the sim city. The race track and marble run set is expandable to build as big as desired by adding more pieces to the existing set. The 2-in-1 combo set can be integrated with other PicassoTiles PicassoToys building block toys such as people or animal action character figures, vehicles, airplane, Ferris wheel, windmill, castle, click-ins, numbers, alphabets, race tracks expansion packs to create infinite designs.
Inspiring open and creative play that brings encouraging sense of achievement to the kids when they get things moving on the tracks. It's never too early to start developing a kid's creativity at a young age. With building or interconnecting 3-D forms, kids learn about geometric shapes, engineering, laws of physics, principles and polarities of magnets, number counting, architectural, color coordination, structural designs with spatial awareness and motor skills, all while playing.
Never gets old - grows with the children to challenge themselves for more complex builds as they progress. Going above and beyond traditional toys, this interactive playset is a popular STEM / STEAM educational kids toy for boys and girls alike, at all learning levels age 3 and up. Fun and entertaining, it's ideal for preschool, pretend play, group activity, classroom teamwork, kindergarten, first grader and more. Made of NON-TOXIC, BPA-FREE, LEAD-FREE materials for safety and quality.

Attention grabber to keep the kids focused on this none digital STEM / STEAM toy. Our creative and educational toys promote less screen time and encourage actual play to protect children's developing eyes from digital screens. Building and learning toys help reduce the time spent with electronic devices such as TV, gaming, smartphones and tablets. Constructing the race track and marble run set enhances children's engineering, architectural, creativity, and motor skills while playing.
Product Video: https://youtu.be/vrOjyeSeo64
INFINITE OPEN ENDED POSSIBILITIES - Contains 108pcs of vibrant, colorful, and translucent magnetic or clip-in piece building blocks and tiles that connect together intuitively to allow frustration-free play time, hand-eye coordination, motor skill training, and child brain development. Equipped with various geometric shapes, including columns, slopes, slides, funnels, U-turns and steel-weighted marbles, LED cars, the 3-D marble run and race car tracks allow multi-layer designs that enable children to stimulate the imaginations.
NURTURES CREATIVITY - Children can dream up their own masterpieces with the variety of bright colors and fun shapes. Building multi-layer, tower toy designs enables children to pay attention and utilize their creative minds to focus and develop the logical thinking required to make the accessible path by removing the road blocks and challenges. The exciting action pieces capture help children to stay focused while encouraging collaboration and cooperation with other kids to make learning fun.
Problem Solving - having the race cars and marble run in motion is a good incentive for the children to troubleshoot and sharpen their problem solving skills when things don't operate their way.
CHILD-SAFE - Made of NON-TOXIC, BPA-FREE, LEAD-FREE materials, the premium building blocks are certified and tested to ensure quality and safety.
Recommended Age
In The Box

2 x Staircase Marble Run Slopes
32 x Magnetic Square Track Tiles
10 x Straight Slides
8 x U-Turn Slides
6 x Quarter Round Turns
4 x Rectangular Race Track Tiles
4 x Race Track Slopes
6 x Square Race Track Tiles
1 x Centripetal Funnels
4 x Marble Run Slopes
4 x Marble Run Long Straight Slides/Supporting Columns
4 x Steel-Weighted Marbles
6 x Quarter Round Race Tracks
15 x Race Track Supporting Columns
2 x Race Cars (2 x AA battery per car is required and NOT included)